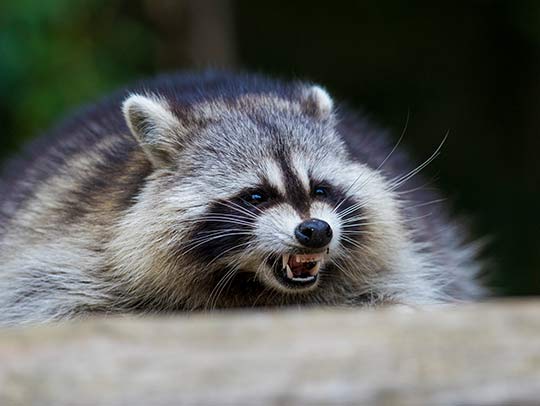 There are a number of laws governing the trapping and hunting of raccoons on public and private land across the state of Pennsylvania. If nuisance raccoons are terrorizing your Pittsburgh property, it is important to understand your rights as a citizen when considering which raccoon removal strategy to undertake.
Legal Ways to Kill Raccoons in Pennsylvania
There are lethal techniques that are approved by the Game Pennsylvania Commission to prevent the spread of rabies. However, you must first obtain a hunting license from the Game Commission that legally permits you to hunt, shoot, euthanize, or otherwise kill raccoons in Pennsylvania. You must also be the owner of the property the raccoon is infesting.
Acceptable firearms for killing rabid raccoons in Pennsylvania must meet the following criteria:
Rifles or handguns with at least 26 calibers
Shotguns with a 12 gauge projectile
Weaponry such as cross-bows are not permissible by the state
Residents are subject to criminal charges if these laws are violated.
Human Raccoon Removal Methods
Live-trapping raccoons is the safest and most humane option for all parties. If you wish to live-trap a nuisance raccoon, you must be sure of the following:
The trap is in a residential area only and not within 150 yards of any other property where people are present.
The trap is 10 x 12 x 32 inches.
The trap was checked within one day of receiving it.
DIY raccoon trapping is risky business that can result in your physical harm or the spread of disease. If your invasive raccoons are found to have rabies, it is best to rely on professionals to capture and euthanize the wild animals, safely and effectively.
The Best Way to Remove Raccoons in Pennsylvania
Ultimately, the best way to get rid of nuisance raccoons on your Pennsylvania property is to contact the wildlife professionals at Critter Control® of Pittsburgh. Our licensed and trained technicians utilize the humane techniques for capturing nuisance raccoons both inside and outside your Greater Pittsburgh home or business. To schedule an inspection and receive a free estimate for our raccoon removal services, call Critter Control® of Pittsburgh today at 412-767-4067.